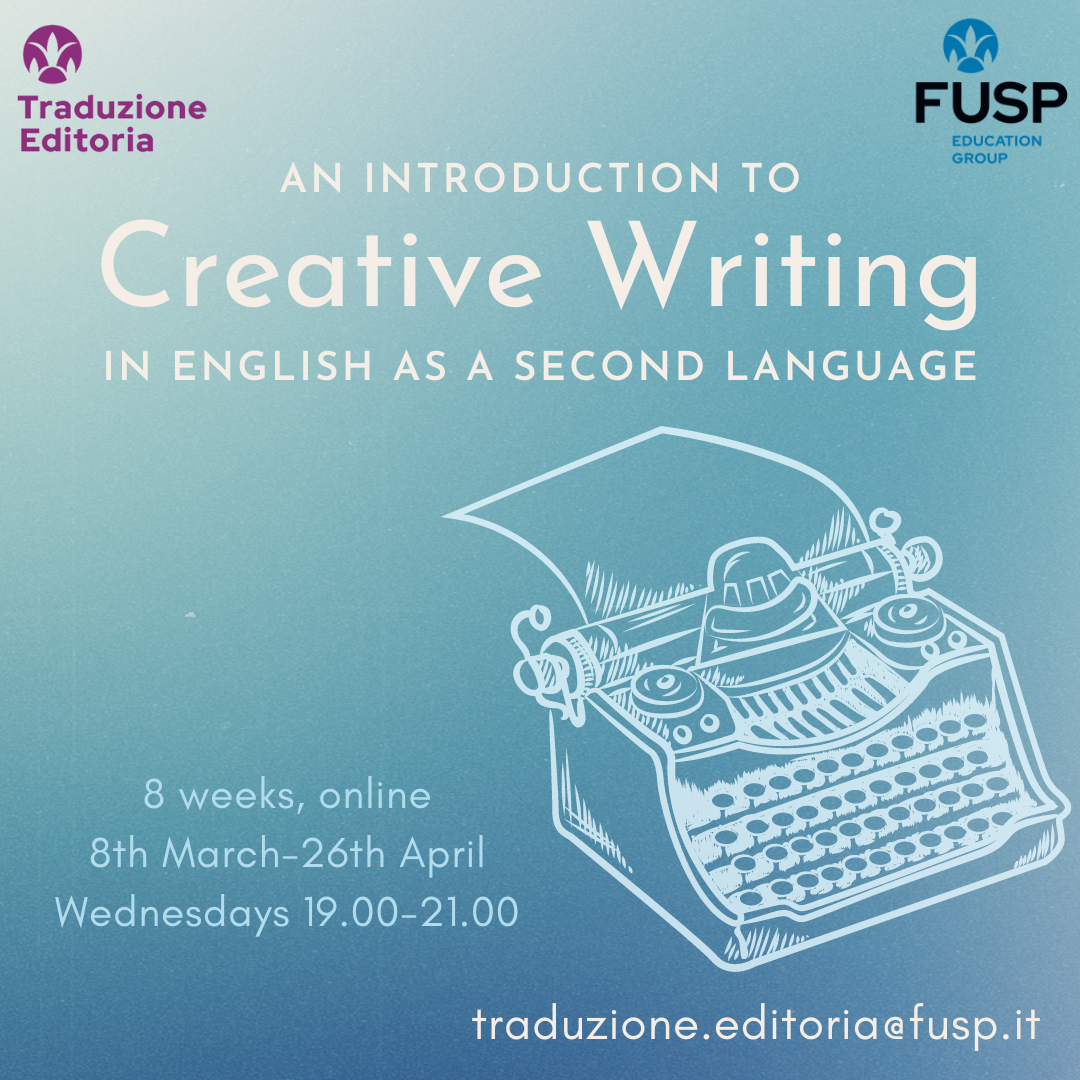 Introduction to Creative Writing in English as a Second Language
1st edition
With Elena Traina
8 weeks: 8th March - 26th April 2023
Wednesdays: 19.00-21.00
Online


This 8-week online workshop is aimed at writers who want to try writing creatively in English as an additional language. In this course, you will learn the fundamental principles of storytelling and craft, while developing an awareness of your writing style in English.
How does it work
Each lesson will be divided into two parts, featuring an overview of craft and stylistic techniques, followed by sharing of creative submissions. Over the course of 8 weeks, you will submit three short pieces and a final complete short story. Your tutor will provide personalized feedback to all submissions, plus linguistic support to help you improve your accuracy and find your own writing style.
Along with their creative submissions, you will be asked to write a self-reflective commentary documenting your learning progress, and a short critical commentary of published works by other authors. In class, you will read from a diverse range of international works of fiction featuring native and second-language writers alike, and will be encouraged to share your own reading recommendations and critical analyses with your peers.
Who is it for?
This course is suitable for both beginners who approach creative writing for the first time and more experienced writers who are familiar with core craft techniques in their own language. The minimum English level required is a sold B2 on the Common European Framework of Reference for Languages. Your writing skills should be proficient.
Portfolio
- 3 short creative pieces (max 500 words each) accompanied by a self-reflective commentary (150-250 words)
- 1 complete short story (max 1200 words in total) accompanied by a final self-reflective commentary (250-300 words)
- Optional weekly critical commentaries to published short stories and novels (200-300 words)
Important notice:
This course will only have limited spaced and will rely on shared knowledge and participants' contribution. Please sign up if you can guarantee your presence and attendance. Lessons will not be recorded and deadlines will be assigned on a first-come-first-served basis.
Dates for your calendar:
- Wednesday 08/03
- Wednesday 15/03
- Wednesday 22/03
- Wednesday 29/03
- Wednesday 05/04
- Wednesday 12/04
- Wednesday 19/04
- Wednesday 26/04
About your tutor:
Elena Traina is a writer, translator and researcher in Creative Writing Studies.
In 2021, she published her debut novel Amarantha with Norwich-based indie publisher Kurumuru Books. In the same year, she was a writer and librarian in residence in Milan as part of the UNESCO City of Literature scheme. She has recently been on a 9-month writing residence in Norfolk Libraries, working on her second novel and leading creative writing workshops in 7 localities in Norfolk. She is now working towards a thesis in Creative Writing Studies at Falmouth University, UK.
As a researcher, she is interested in creative writing in English as a second language, and in conventional and unconventional approaches to teaching creative writing. Her articles on creative writing pedagogy have been published in the Journal of Creative Writing Studies and in NAWE's magazine Writing in Practice.
_____________________________________________________
Modalità di iscrizione:
Il corso ha un costo di 390€.
Iscriviti qui!
How to register:
The price for this course is 390€.
Click here to register!



---