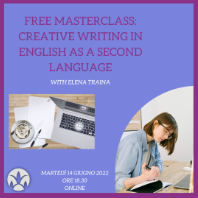 Free Masterclass:
Creative Writing in English as a Second Language
with Elena Traina
Nella giornata di martedì 14 giugno alle ore 18.30 la SSML organizza una Masterclass gratuita tenuta dalla scrittrice Elena Traina.
Please join Italian author and researcher Elena Traina for a free Masterclass in Creative Writing in English as a Second Language.

The objective of this Masterclass is for you to learn how to read classic and contemporary literature as a writer and reflect on your own creative writing process in a second language.
At the end of this lecture, you will be given the opportunity to experiment with your creative work and to reflect on what it means to write creatively, critically and reflectively in a second language.
Topics covered in this class:
· Foregrounding: creating and breaking patterns in literary texts and why patterns matter
· Figure & Ground Theory
· Metaphor and cognitive stylistics: metaphors as literary devices and as cognitive resources to interpret abstract thoughts
· Conceptual metaphors and domains
· Writers on writing: metaphors for the creative writing process
· Craft-oriented vs inspiration-driven metaphors for writing
· Multilingual writing
Elena Traina is a writer, tutor and researcher in Creative Writing Studies. She has lived in Norwich, UK, for six years, working for a local authority. In 2021, she won a Special Recognition for her first script for a short film The Morning After at the Venice Film Festival; and published her debut novel Amarantha with Kurumuru Books. She is now on a six-month writing residency in Norfolk Libraries, working on her second novel, set in mid-Brexit Great Yarmouth. As a researcher, she is interested in writing creatively in English as a second language, and in conventional and unconventional approaches to teaching Creative Writing in non-anglophone institutions.
Indicazioni tecniche:
La Masterclass si terrà su Zoom e avrà una durata di due ore. Di seguito il link per partecipare all'incontro:
Per partecipare, è necessario iscriversi compilando il modulo di iscrizione al seguente link: clicca qui. L'iscrizione sarà valida fino a 48 ore prima.

Per maggiori informazioni è possibile rivolgersi alla Segreteria didattica: segreteria@fusp.it

---